Institute 193 presents Cosmic Giggles by Charles Williams proceeds to benefit Moveable Feast Lexington
Cosmic Giggles will be released in conjunction with The Life and Death of Charles Williams on view at Atlanta Contemporary from January 23 - April 19, 2020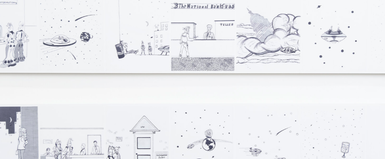 Please support this Kickstarter All or Nothing project before March 6, 2020. All-or-nothing funding means that no one will be charged for a pledge towards a project unless it reaches its funding goal. This way, creators always have the budget they scoped out before moving forward.
Institute 193 collaborates with artists, writers, and musicians to document the cultural production of the modern South. This April, Institute 193 is publishing the Cosmic Giggles, a graphic novel/comic, featuring over 100 drawings by Charles Williams, using scans of photocopies the artist made at IBM in the early 1980s. This publication is produced in conjunction with the exhibition The Life and Death of Charles Williams at Atlanta Contemporary.
Beginning sometime around 1975, Charles Williams embarked on the creation of a series of drawings he referred to collectively as the Cosmic Giggles that recount the exploits and observations of Martians visiting Earth. During their travels around our world the aliens witness homelessness, racism, pollution, gas shortages, and other societal ills. They ultimately decide to return to their planet, thus avoiding any potential war of the worlds.

Williams worked avidly on paintings, drawings, assemblages, sculptures, and furniture until his untimely death in 1998, the result of AIDS-related complications and starvation. A few months later Moveable Feast Lexington was founded in his honor and tasked itself with providing hot meals to people living with HIV/AIDS in the region. In death, Williams had finally become a catalyst for the kind of change he had advocated for in his comics, drawings, and sculptures but his work remains almost completely unknown.