​Meal Preparation
MFL clients receive individual nutritional attention. Menus are modified to address specific needs related to pharmaceutical side effects including diarrhea, diabetes, heart problems, renal problems and gluten intolerance. MFL clients benefit from the daily visit of a caring and concerned volunteer resulting in an overall better quality of life. Individuals are served without regard to race, sexual orientation, religion, political affiliation, or national origin. MFL is a recipient of the Gay & Lesbian Services Organization's Rainbow Community Service Award.
The kitchen is the heart of Moveable Feast Lexington and operates five days a week. You can volunteer in the mornings, afternoons, or evenings. You don't have to be a Julia Child, there's plenty of slicing and dicing or chopping and peeling. If you are totally uncomfortable in the kitchen, then you can assist with the packaging of the meals for delivery.
For cooking, the schedule begins on Mondays through Fridays from 11:00 a.m. until 5:00 p.m. Our kitchen operates five days a week. You are welcome to stop by for a tour or to help out any time you're in the neighborhood.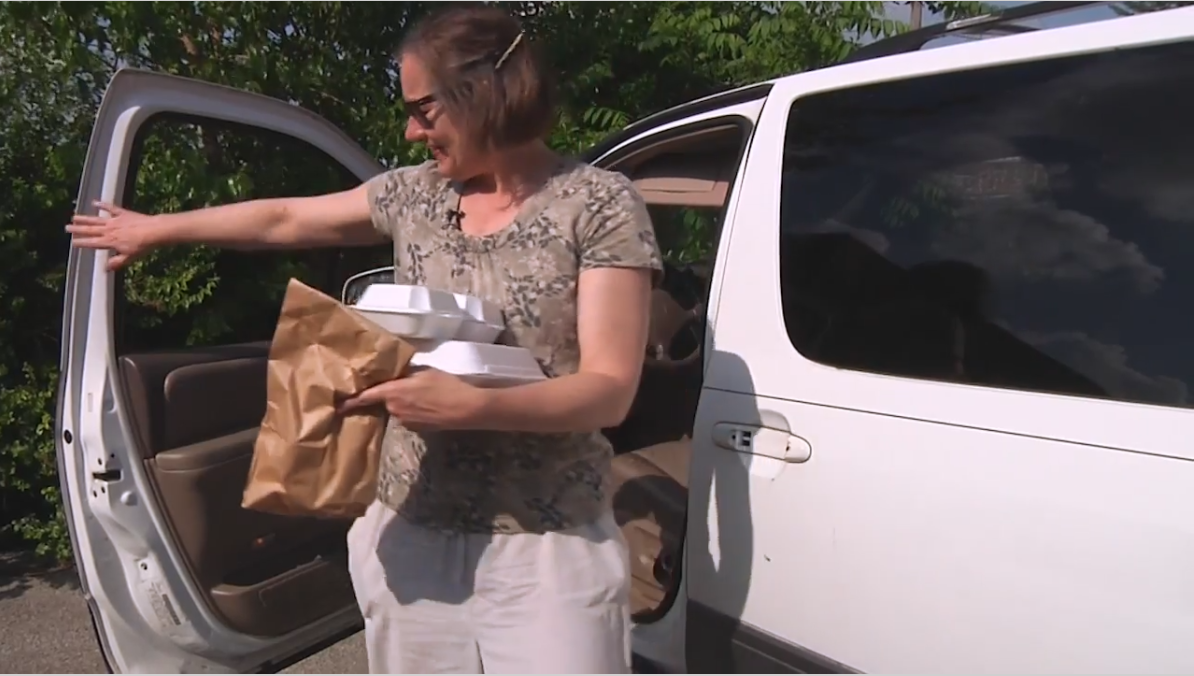 ​Meal Delivery
While similar programs in other cities assign clients a Care Coordinator and give coupons for groceries, for some people, that's not enough. They need their meals prepared and delivered. Moveable Feast Lexington provides a unique service that is making a difference. Using all volunteer drivers, MFL delivers throughout the Lexington /Fayette County Kentucky area, serving meals to people living with HIV/AIDS as well as individuals who are patients of Hospice of the Bluegrass, their caregivers and any dependents living at home.
The final step in completing the mission of Moveable Feast Lexington is to deliver the meal. This is when you have the opportunity to meet face to face with our clients. Maintaining confidentiality is very important. Meals delivery requires training, orientation and a fixed schedule.
Delivery volunteers must use their own vehicles and must have a valid drivers license and insurance. Drivers arrive to pick up food on their assigned days by 5:00 p.m. and deliver to the clients by 7:00 p.m.
You may also volunteer as a substitute driver to be called on when needed.
​In-Home HIV/AIDS Screening
Please contact Moveable Feast Lexington for details about our in-home HIV/AIDS screening services. +1 (859) 252-2867.
The Importance of Testing
Getting tested for HIV is important for your health, your relationships, your life and your future. The growth of new infections continues to pose serious health risks. According to the CDC, today in the U.S. 1.2MM people are infected with HIV. 20% of those infected are unaware of their HIV status. Those undiagnosed 20% are responsible for up to 70% of the new infections each year in the United States.
The fact is that HIV is preventable, and you can reduce or eliminate your risk. And early detection can lead to early treatment and better outcomes. Many people live long, normal lives with early detection and proper care, because the advancements in HIV options have been significant.
How Oral Testing Works
Most people assume that blood is involved in HIV testing. But with OraQuick® an oral swab is used for testing and requires no blood. By collecting oral fluid from your gums, you collect fluid similar to that used in blood testing.
The OraQuick Test detects antibodies for HIV, not the virus itself. You just gently swipe the test swab along your upper gums once and your lower gums once. Then the swab is inserted inside the test tube and in just 20 minutes you'll get your results.