Volunteer Today!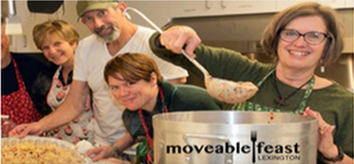 Moveable Feast Lexington is a volunteer driven organization committed to enhancing the quality of life of people living with HIV/AIDS or are on Hospice Care for any reason, in Lexington/Fayette County. Volunteers and staff work together to provide clients with fresh meals and groceries. Volunteers also provide direction in every aspect of Moveable Feast Lexington, from client and program support to serving on the Board of Directors.
We have a variety of available volunteer opportunities, ensuring that you can find a position that fits both your schedule and interests. In deciding upon a volunteer program, it may be helpful to ask yourself the following two questions: "What do I want to do?" and "When am I available to do it?" Some of our programs operate during regular business hours and some have shifts available evenings and weekends. In addition, some require a regular weekly commitment while others are more flexible.
Food Preparation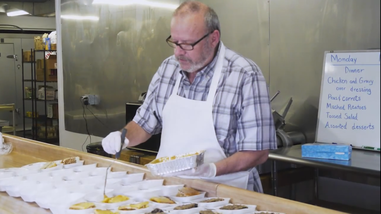 The kitchen is the heart of Moveable Feast and operates five days a week. You can volunteer in the mornings, afternoons, or evenings. You don't have to be a Julia Child, there's plenty of slicing and dicing or chopping and peeling.
If you are totally uncomfortable in the kitchen, then you can assist with the packaging of the meals for delivery. For cooking, the schedule begins at 11:00 a.m. until 5:00 p.m. Mondays through Fridays. You are welcome to stop by for a tour or to help out any time you're in the neighborhood.
Meals Delivery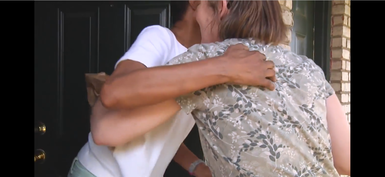 The final step in completing the mission of Moveable Feast Lexington is to deliver the meal. This is when you have the opportunity to meet face to face with our clients. Maintaining confidentiality is very important. Meals delivery requires training, orientation and a fixed schedule.
What does volunteering to deliver meals at Moveable Feast look like? Well, it's pretty simple.
Delivery volunteers must use their own vehicles and must have a valid drivers license and insurance.

Arrive at Moveable Feast between 4-5:00pm – and no later than 5:30, first time volunteers will receive training

Pick up a clipboard with delivery and driving instructions

Pack up the previously boxed meals and head out to deliver

Complete deliveries by 7pm – approx 2 – 2 ½ hour shift from arrival to completion

Bring a friend – it is a covid safe way to spend time together and have an impact!