For New Lexington NonProfit, A Moveable Feast, Charity Begins at Home
Ace June 10, 1998 BY CANDICE JACKSON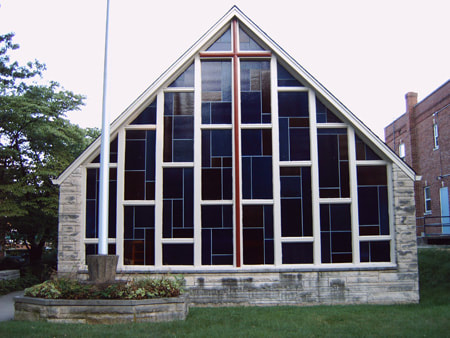 When speaking about community activism, Reverend Christopher Platt refers to a quote from socialist leader Mother Jones: "Pray for the dead, and fight like hell for the living." Right now, that statement could very well be the foundation on which one of Lexington's latest efforts to help the hungry is built.
Along with other concerned members of the community, Rev. Platt is currently working on a project called Movable Feasts Lexington, Inc. Platt describes Movable Feasts as "home delivery of food to HIV and AIDS victims who are hungry, but do not have the money to support a high-calorie diet that is necessary for AIDS patients."
In addition to meeting the basic nutritional needs of HIV/AIDS victims, the project also hopes to provide invaluable person-to-person contact for the patients- something that few AIDS victims receive. This kind of regular contact helps to meet the emotional needs of such patients, which are often isolated because of illness or the stigma attached to the disease.
The project, which is still in its early stages, will be run from St. Augustine's (Episcopalian) Chapel, where Rev. Platt is Chaplain. (He is also canon to the ordinary.) There, offices for the project, as well as a kitchen to be used for food preparation, will be available. In addition, Rev. Platt is responsible for raising the initial money, which will be used to refinish the kitchen and cover other startup fees. The kitchen, when finished, will be leased to Movable Feasts at a cost of $1 per year.
The Board of Directors for Moveable Feasts is made up of a variety of people, including those of different religions and denominations. Chairman Michael Thompson, who has been involved with the project from the very beginning, is not a member of the church. However, he has found St. Augustine's "very supportive and a lot of help" in its efforts to raise money and work space for the program. Thompson has felt that a program like Movable Feasts has been needed in Lexington for years. "It seemed incredible to me that there were no services for patients… aside from the health department, no one really seemed interested in feeding AIDS patients," he said. With the help of Carol Farmer, a personal friend and interested volunteer, he has been feeding a few patients on a daily basis himself. But, with the advent of Movable Feasts, more patients will be fed and cared for.
Projects to feed HIV/AIDS victims are definitely not new to the United States, and the Board of Directors will use the example of other programs to help them in creating the Lexington project. Projects in metropolitan areas like New York City, San Francisco, and Boston have been in place for years, and five members of the Board of Directors plan to visit such a program in Atlanta to gain information and insight. Thompson is confident that the success of other programs is a good sign for Movable Feasts. Said Thompson: "In all the other cities where they have these types of charities in place, the quality of life of the people involved has vastly improved."
Currently, Movable Feasts has one-third of the money it needs to start up the deliveries, but Platt is optimistic. "Since Movable Feasts became incorporated," he says, "people and corporations have been more comfortable in donating to the project. Knowing that the project is really going somewhere allows people to feel more comfortable when contributing." Movable Feasts is also looking for volunteers within the community that would be happy to help in the cooking, deliveries, or other tasks. Platt stresses that membership in the church is not necessary, and people of any (or no) religious beliefs may contribute. He adds, "[This project] is interfaith and non-denominational.
The only requirement for any kind of involvement in Movable Feasts is thinking that feeding sick, hungry people is a good idea… religion is a separate matter." The projected start-up time for Movable Feasts is August 1998, but the date is contingent on the length of time it will take to raise the money needed. During that time, the board members will continue to seek out financial contributors, as well as volunteers that will supply food for the approximately 75 patients on the list of deliveries. They will also continue to learn more about the needs of AIDS patients and how to fully meet the specific nutritional needs of these patients. While the board members have much work ahead of them before Movable Feast is ready for operation, they remain optimistic and committed to their cause.
"This is going to take a lot of work-people are beginning to realize that," said Thompson. "But with the help of the community, I am confident that we can do it." Those interested in contributing time or money to Movable Feasts Lexington, Inc. should contact their offices at 252-2867. The Movable Feasts offices are located at 472 Rose Street, in the St. Augustine building.